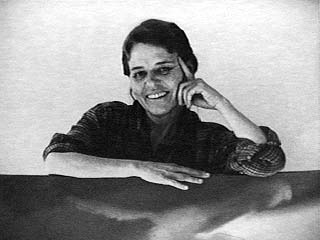 Judith Hale (1945-2010)
Judith Hale was born in Mexico City and spent most of her life in California, including over 30 years along the Mendocino Coast. In July 2009 she moved to Santa Fe, New Mexico, where she died on March 15, 2010. She is survived by her brother, Ron Hale, who manages her estate--fulfilling a promise to continue to make her remarkable work more widely available.
Judith created vivid, abstract oil and acrylic paintings on canvas and paper, using color and line in ways that were both alive and reflective of the natural world. She received her BFA from the California College of the Arts in Oakland; she also studied at the Santa Fe Art Institute with Helen Frankenthaler. Her work has been shown in galleries in Mendocino, San Francisco, Santa Fe, and elsewhere in the U.S., and is in many private collections. For many years, she taught Abstract Expressionist Painting at the Mendocino Art Center.
Shortly before her passing, Judith looked up at a magnificent Santa Fe sky and proclaimed, "That is where I live." From her rustic house on the California coast, she would sit for hours absorbing the exquisitely changing sky. That depth of observation was manifested in her paintings.
Judith leaves behind a number of oil paintings on canvas, as well as a large body of works on paper and a few pastels. Some of her paintings can be seen in the Main Gallery at the Mendocino Art Center (www.mendocinoartcenter.org) and at the William Zimmer Gallery (www.williamzimmergallery.com), both in Mendocino, or by appointment with Ron Hale in Santa Fe.
Judith Hale said of her work:
"While being completely abstract, there is in my paintings a strong affinity with natural forces, an invitation to enter a geography of imagination that is familiar but new, both peaceful and passionate, timeless but full of movement. Almost always, my intention in painting is to flood space with light, using line, color, form and reference to the familiar to arrive at something new and startling. My paintings are meditative, intuitive and exploratory. My hope is to connect people with their own love of beauty, freedom and vastness."
For more information or possible purchase, please contact:
Ron Hale
ronhale@aol.com
P.O. Box 5851
Santa Fe, New Mexico 87502
Telephone (505) 989-7543
---
All images copyright Judith Hale